Cua Lo tourism festival kicks off in Nghe An province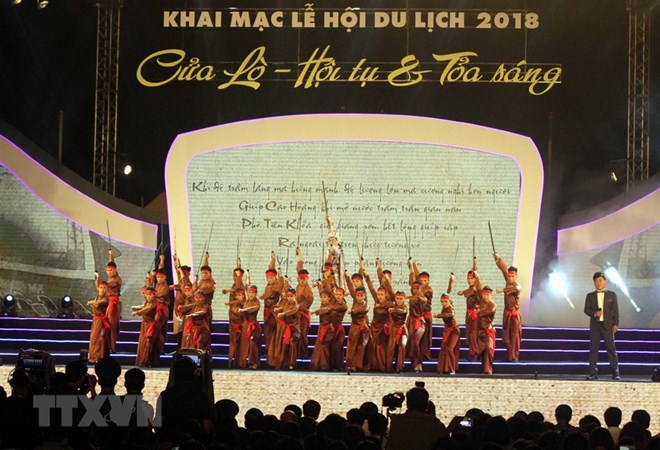 At the opening ceremony
Speaking at the opening ceremony, Vice Secretary of the provincial Party Committee and Chairman of the provincial People's Committee Nguyen Xuan Duong said Nghe An is famous for its picturesque beauty, which has been depicted in poetry, music and painting.
Cua Lo beach has a lot of legends and it is endowed with beautiful surrounding landscapes, Duong said.
Through historical ups and downs, Cua Lo town - dubbed the green pearl of Nghe An - has become a popular marine destination in the province and the country as well, he added.
Cua Lo is evaluated as one of the most beautiful beaches in Vietnam by the World Tourism Organisation, he said.
The beach has become a must-see place in the tourism map of numerous visitors thanks to modern infrastructure and hi-end hotels and entertainment parks, he added.
On the opening night of the festival, a special art and cultural performance was held at the Binh Minh Square in Cua Lo town along with an eye-catching firework display.
Cua Lo is one of the beautiful beaches in the north central region with over 10km-long coastline, smooth white sand, blue seawater, moderate salinity and green casuarina tree rows.
Visitors should get up early to greet dawn in Cua Lo beach and admire the fanciful beauty of clouds, sky and sea, and watch returning to mainland of cuttlefish fishing boats and busy trade scenery of fishermen.
They can enjoy a variety of local seafood specialties such as crab steamed with tamarind, oyster porridge, eel porridge, and flashing cuttlefishes as well as participate in sports activities of surfing, beach volleyball, and jet skiing.
In 2018, Cua Lo town strives to greet over 2.7 million visitors, a year-on-year rise of 10 percent, including 6,000 foreigners. The local tourism sector aims to rake in nearly 2.7 trillion VND (114.2 million USD) in revenue, up 18 percent against the preceding year.-VNA